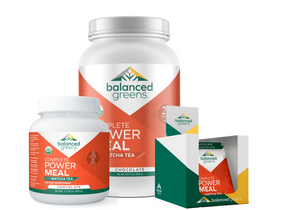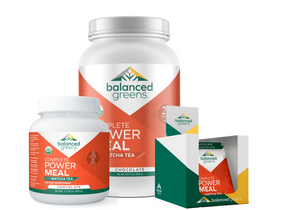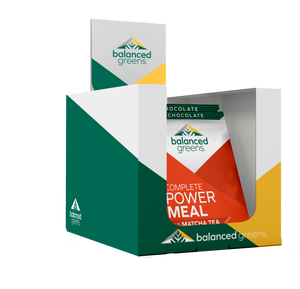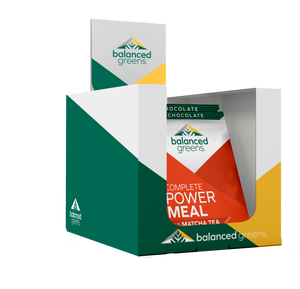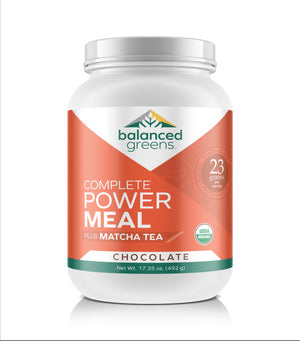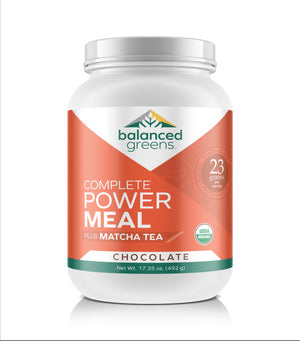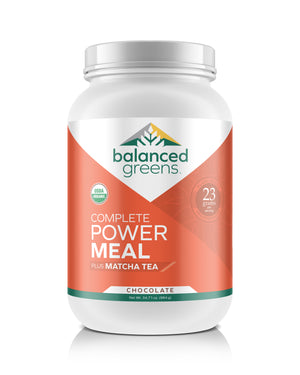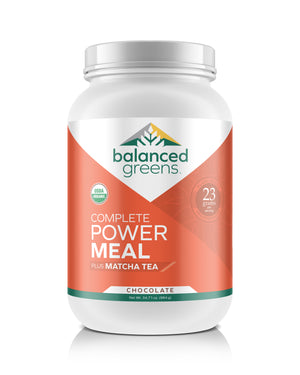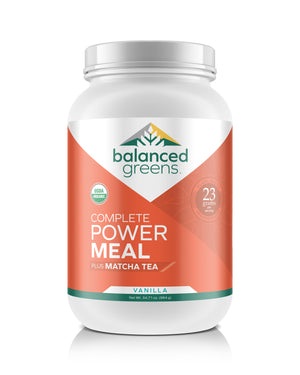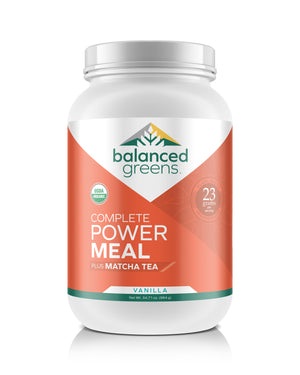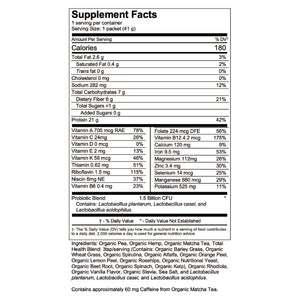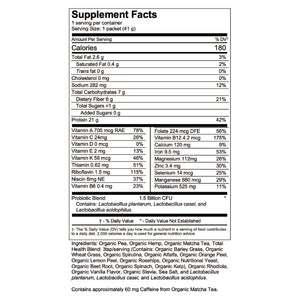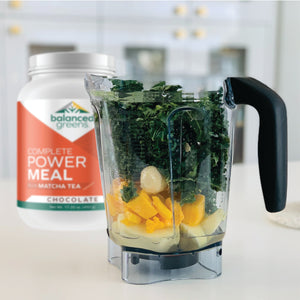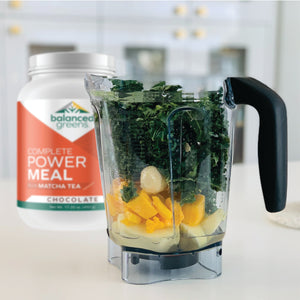 On Sale
Power Meal
11 Energy Superfoods. Total Health Formula. Matcha Tea Energy and Clarity. 
Our Power Meal is packed with 23 grams of raw plant protein, matcha tea and much more. Featuring the best plant protein, the original ENERGY FOOD FORMULA since 1990 (now called Total Health), Matcha Tea, Rhodiola, Omegas, Probiotics, naturally occurring enzymes and prebiotics–this power mix is the choice of athletes, those watching their weight, or who just need a balanced meal on the go. An all-in-one, and then some.
Our vegans and paleo's love it because of the high 70% B12 and 53% iron naturally occurring from the Total Health formula.  This naturally filling formula satisfies hunger, amplifies health and provides jitter-free energy. This Power Meal offers great support for healthy joints, connective tissue and digestion.
Your body deals with a lot, give it the boost of health and happiness you deserve. We started Balanced Greens after searching for our own health and discovering a 25+ year formula (Total Health), sold separately. Today, it stands unchanged as the core element and inspiration for all of our products. Join us in a greater life!
Raw, Organic, Vegan, Paleo, Gluten-Free, Non-GMO, Soy Free, Dairy Free, No Added Sugar
• Provides rich nutrition and alkalinity from the Total Health formula
• Builds lean muscle, helps with recovery and athletic performance. Great as a pre or post workout drink, especially when Cell Superfood is added
• Great support for joints, connective tissue, digestion and thyroid health
• Promotes memory and concentration
• Detoxes naturally
MATCHA TEA BENEFITS
• 75 mg of natural caffeine effect, without the jitters
• Healthy metabolism and helps burn fat
• Manage weight and enhance immunity
• Rich in antioxidants
RHODIOLA BENEFITS
• Helps to balance cortisol levels
• Helps support adrenals for stress
Unlike most plant-based protein meals, Power Meal plus Matcha Tea has a smooth texture and tastes good. It mixes and dissolves easily with fork in water, almond milk, coconut milk, or other healthy beverage.
Ingredients: Organic Pea, Organic, Organic Hemp, Organic Matcha Tea, Total Health Blend: 3 tsp per serving (Organic Barley Grass, Organic Wheat Grass, Organic Spirulina, Organic Alfalfa, Organic Rosehips, Organic Orange Peel, Organic Lemon Peel, Organic Non- Active Nutritional Yeast, (Safe for Candida,) Organic Beet Root, Organic Spinach, Organic Kelp), Organic Rhodiola, Organic Vanilla Flavor, Organic Stevia, Sea Salt. Probiotics: 1.5 Billion Per Serving Lactobacillus Plantarum, L. Casei, L. Acidophilus