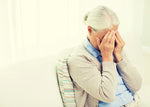 Did you know, 25% of Americans Suffer From Migraines / Headaches?
According to the Migraine Research Foundation:
Migraine is the 3rd most prevalent illness in the world
Nearly 1 in 4 U.S. households includes someone with migraine
Amazingly, 12% of the population – including children – suffers from migraine
18% of American women, 6% of men, and 10% of children experience migraines
Migraine is most common between the ages of 25 and 55
Migraine is the 6th most disabling illness in the world.
Every 10 seconds, someone in the U.S. goes to the emergency room complaining of head pain, and approximately 1.2 million visits are for acute migraine attacks.
While most sufferers experience attacks once or twice a month, more than 4 million people have chronic daily migraine, with at least 15 migraine days per month.
More than 90% of sufferers are unable to work or function normally during their migraine.
Medical doctors will focus on alleviating symptoms rather than dealing with the root cause. Researchers from Yuzuncu Yil University in Turkey did a major study on people with chronic headaches and reached the following conclusion.
Based on the findings of this study, migraine sufferers tend to not only have mineral imbalances and deficiencies but also excess levels of harmful elements (metals) inside their bodies. Such abnormalities can lead to hormone imbalances, neurotoxicity, or in this case, excruciating head pain in the form of migraines.
We are offering this as a possible solution. Our Superfood blend – Balanced Greens Total Health  and Cell Superfood / Fulvic Acid Minerals. One or the other may keep you have having a migraine but for optimal health you should be taking both.
Balanced Greens Total Health is formulated by Dr. Cindy Schmillen ( Mountain Family Wellness Clinic ) and has 25+ years of clinical history. It will balance the chemistry of your biological terrain. We have customers who take it specifically to help with headaches. It is loaded in naturally occurring vitamins, minerals and other nutrients through raw food sources. Total Health is certified organic, raw, gluten free, non-GMO, vegan and sugar free.
We obtain our Cell Superfood / Fulvic Acid Minerals from Mountain Family Wellness. The Cell Superfood is rich in nutrients and trace minerals delivering living energies into your cells, super oxygenating the blood. It is called nature's most powerful organic electrolyte, antioxidant, and one of nature's most aggressive free radical scavengers. Fulvic super~oxygenates the blood, this is why athletes love it. Fulvic is a catalyst which will drive all nutrients to a deeper cellular level, accelerating health and healing. Fulvic is a very aggressive free radical scavenger and will help pull environmental toxins, including metals from the body.
#trace minerals #inflammation #jointpain #thyroid  #detox #antioxidant
#Vegans #plantbased #plantbasesdnutrition #plantsuoperfoods #veganfood
#TotalHealth #PlantProteinplus11EnergySuperfoods #PowerMealplusMatcha
#plantproteins #organicplantproteins #proteinshakes #mealreplacement
#weightloss #peaprotein #riceprotein #hempprotein #rhodiola #MatchaTea
#Perfectplantproteincombo #proteintasteandtexture #proteinwithgreens
#Best tastingSuperfoodavailable
#Energy #stamina #Endurance #performance
#Paleo #superfoods #supergreens #healthyliving #organicsupplements
#wellness #fitness #vitamins #minerals #organicsupplements
#cleaneating #whatveganseat