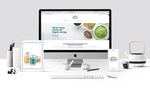 We at Balanced Greens are proud to introduce our new look, new product names and new website!
We have always believed that we have the best green drink and energy foods available. Our core blend - formulated by Dr. Cindy Schmillen in 1990 - has not changed in over 25 years. This dynamic blend was designed as the perfect fuel to feed and restore life to your body. This potent formula of high-quality ingredients and superfoods was not designed to simply add fruits, veggies, herbs and other ingredients to your diet. It was created as a recipe for a natural prescription for health. What is on the inside of the jar is powerful; but we struggled to make the outside of the jar look as powerful as what is on the inside, until now.
We have the same powerful blends featuring Balanced Greens Total Health (Energy Food), packed with certified organic, non-gmo, raw, gluten free ingredients. Our paleo and vegan offering, Power Meal includes organic pea, hemp and matcha tea in addition to our Total Health formula. While our vegan, Plant Protein brings all the punch you need with organic pea, sprouted brown rice and hemp, and of course our Total Health formula.
Our line-up of products truly are perfect for every walk and stage of life, and now they look like it!
Thank you for being our customer and for your patience with us during our transition. We would love to hear what you think of our new look, packaging and website!
Best of health,
Richard and Leah
#Vegans #plantbased #plantbasesdnutrition #plantsuoperfoods #veganfood
#TotalHealth #PlantProteinplus11EnergySuperfoods #PowerMealplusMatcha
#plantproteins #organicplantproteins #proteinshakes #mealreplacement
#weightloss #peaprotein #riceprotein #hempprotein #rhodiola MatchTea
#Perfectplantproteincombo #proteintasteandtexture #proteinwithgreens
#BesttastingSuperfoodavailable
#Energy #stamina #Endurance #performance
#Paleo #superfoods #supergreens #healthyliving #organicsupplements
#wellness #fitness #vitamins #minerals #organicsupplements
#cleaneating #whatveganseat